2012 Nov-3
Words and photos: Naka
My day started out at 5:30am. It was a pleasant drive from Anaheim to San Diego and I got to see the sunrise just as I crossed the county line. I was really looking forward to this contest. Exposure was the brainchild of Amelia Brodka (of Underexposed fame) and Armando De La Libertad to help benefit battered women and their children with scholarships. The contest showcased an all-women lineup with some of the best bowl and vert skaters on the planet.
When I pulled into the parking lot of the YMCA around 7:45am, set up looked like it had been going on for an hour or so. Organization is key to a successful event and this one looked to be on point. Although the rest of the park was wet with condensation, the bowl was bone-dry and Abby Zsarnay was already getting in her practice. Since I had never skated the Clairemont bowl, I padded up, took a quick stretch and skated with Abby and Cheryl. Cheryl was a first-timer too, so we both tried to find lines together. After about a half an hour, I decided it was time to get some work done, and broke out the photo gear.
AM BOWL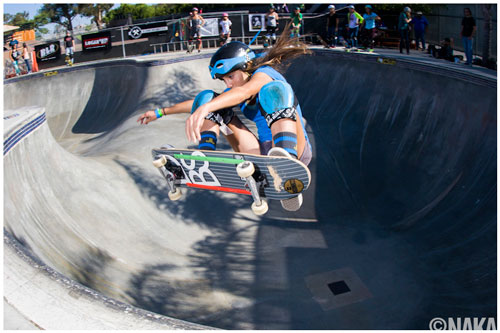 Arianna Carmona, early release.
The Amateur division started the day off. Annika Vrklan, Spencer Breaux and Bryce Wettstein are all under 10 years old, and they all have a very bright future in skateboarding. Bryce was able to mix it up with some lines, frontside airs and backside grinds to get her into 5th place. The girls who were a bit older were just too much for the groms though. Fourth place went to Sarah Thompson. She had some great frontside tuck-knees and used the bowl well. Pauline Branom landed in 3rd with some nice indys and even threw in a couple creepers in the shallow. Anaheim local, Mikayla Sheppard carried some good speed through the bowl with frontside airs, grinds and some nice backside 50-50s, she ended up in 2nd. Arianna Carmona has been on a tear lately. Arianna made good use of the bowl and had some lines that I want to steal when I can get back there. Needless to say, she ran away with 1st place.
Am Bowl Results
1st Arianna Carmona
2nd Mikayla Sheppard
3rd Pauline Branom
4th Sarah Thompson
5th Bryce Ava Wettstein
PRO BOWL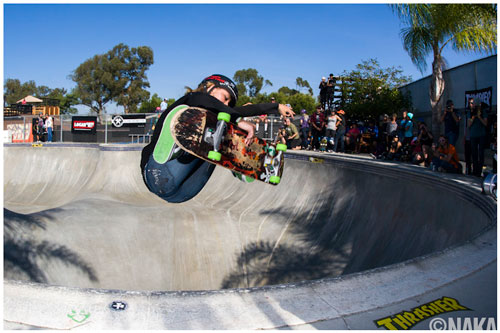 Julz Lynn pops a nice tuck-knee
The Pros entered the bowl and it heated up quick. All of the girls picked the bowl apart. Back disasters, feeble grinds, andrechts, frontside ollies, smiths and 5-0 roll-ins hyped up the crowd. Abby Zsarnay is a trooper. She was skating before I arrived at 7:45am and was still going strong. She has a lot of power in her skating and is fun to watch. Unfortunately, Abby had a couple slams during practice that may have slowed her down a bit. She also overshot a frontside grind in the 8ft section and fell backwards into the bowl during the contest. She was able to shake herself off and make her final runs though. She grabbed 6th for her valiant effort. 5th place went to the organizer of the event, Amelia Brodka. Practice didn't seem like it was Amelia's day, but never count Amelia out. The tricks I didn't see her pull in practice, she pulled all of them in the contest. Front disasters, shallow front rock and front tailslide, just to name a few. Lizzie Armanto is a terror. Her bag is one of the best in the world. Proper front smiths, tuck-knee inverts, feeble grind fakies, front bonelesses and creative lines make her the success she has become. Lizzie gave a great effort, but had too many falls, which landed her in 4th. Lizze's partner in crime, Allysha Bergado wowed the judges with double grab backsides, frontside bonelesses, tuck-knee and andrecht inverts, and her usual casual style to put her in the 3rd spot. Former East-coaster, now Pacific-coaster, Nora Vasconcellos is well on her way to becoming a household name in skateboarding. She is one of those skaters whose abilities on the board come very naturally to her, and it shows in her skating. It was probably her speed lines, style and effortless arsenal of tricks, which got her the 2nd place prize. Top honors went to Julz Lynn. She showcased some unique lines and skated with speed and power. Backside and frontside 5-0 roll-ins, big airs, inverts, the only one to do an air over a hip, and overall punishment of the coping earned her 1st place.
Pro Bowl Results
1st Julz Lynn ($1000)
2nd Nora Vasconcellos ($700)
3rd Allysha Bergado ($500)
4th Lizzie Armanto ($400)
5th Amelia Brodka ($300)
6th Abby Zsarnay ($100)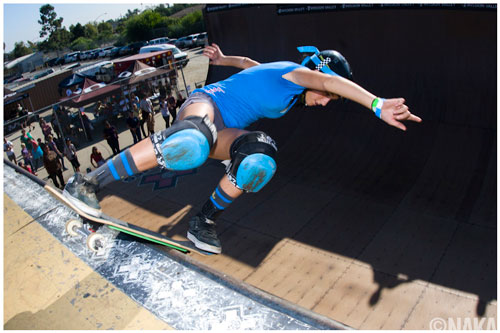 Arianna Carmona rocks the Am Vert contest
AM VERT
The Vert contest followed the bowl. It's so amazing to me to see kids who are under 10 dropping into a vert ramp 3-4 times taller than they are. Being a parent of small kids now, it kinda makes my stomach drop just watching them. Bryce, Annika, Spencer, and, Sarah, who pulled a backside 50-50, gave it their all, but Arianna Carmona proved to be too much for them, and continued where she left off in the bowl and swept her two events.
Am Vert Results
1st Arianna Carmona
2nd Sarah Thompson
3rd Bryce Ava Wettstein
4th Spencer Breaux
5th Annika Vrklan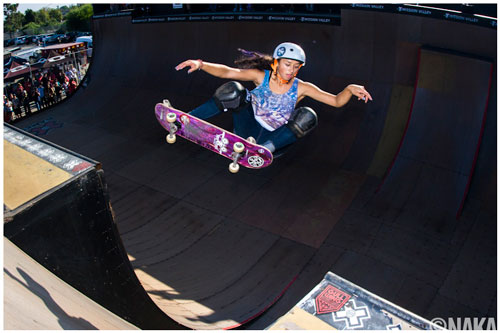 Lizzie over the channel
PRO VERT
When the pros dropped into the ramp, things really stepped up. Lizzie never needs to get warmed up. She'll drop right in to a frontside invert and bust a few airs right out of the gate. I had never seen Alana Smith skate before in person. For her age, she is extremely talented and you can tell right away, she has fun skateboarding. She was busting some chest/head-high backside airs and tried a couple of McTwists during practice. When the contest got under way, it looked like Lizzie was going to be the one to beat. Julz had some nice tricks on the ramp. She loses a bit of her power though in the halfpipe format. She still threw down and ended up in 6th place. When you watch Amelia ride a vert ramp, you can tell she is comfortable riding it. Front disasters, backside and frontside airs slipped her into 5th place behind Nora. I've seen Nora skate vert before and she is a sight to see. Big tricks and big style. Today, she had an off day and grabbed the 4th spot. Allysha took 3rd with her giant bag of frontside bonelesses, backside double grabs, inverts, stalefishes and smooth style. Young Alana skated her way into the 2nd with the biggest airs of the day and a couple of 540 attempts. Lizzie has the whole package on vert, big airs, lip tricks, speed and style. She bested the others with frontside inverts, big methods, crails and an ollie over the channel, and walked away with the crown.
Pro Vert Results
1st Lizzie Armanto ($1000)
2nd Alana Smith ($700)
3rd Allysha Bergado ($500)
4th Nora Vasconcellos ($400)
5th Amelia Brodka ($300)
6th Julz Lynn ($100)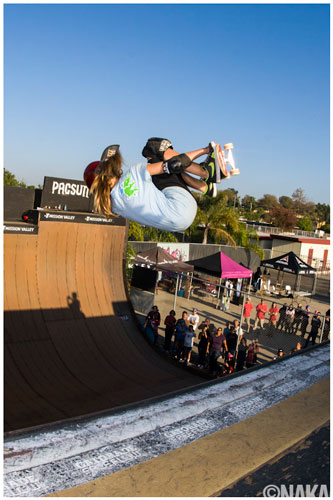 Alana makes history. Her McTwist make.
BEST TRICK/FIRST TO 540
The last two divisions of the day were the "Best Trick," and the "First to 540." During Best Trick, Lizzie came out swinging and threw down an ollie and a stalefish over the channel. Amelia almost had a stalefish disaster, and Allysha tossed a frontside boneless under a Lizzie backside air.
I believe that Brian Lynch put up $1,000 to the first one to land the much-elusive 540. Alana was really the only one trying them. Hunter Long tried to throw a few, but came up short. I would say Alana tried about 15 of them and some were so close. Everyone was cheering her on. I kept giving her words of encouragement when she was near me on the deck. It was unreal that the man who invented the McTwist was there and came over to give her some pointers. After I snapped a photo of the two of them talking, I headed over to the side where Alana was trying them. I shot one of her, a bail. And the very next one I caught, was the one she stomped. The crowd and everyone on the deck went crazy!
This moment probably ranks as the coolest thing I've seen in skateboarding. I saw Sandro Dias pull his first 900 in a contest run in 2004 at the LG Action Sports contest. Although it was super awesome to see him land it, Alana's moment stands out even more for me. Maybe it's because I have two daughters of my own now, or that it was her first one, ever. Maybe it's because she had been trying them for a year before this point and had not landed one. Probably a combination of all of them. Also, a big part is because who Alana is and how, at such a young age, her attitude is unlike any other. At no time during her missed attempts did I see her down on herself or mad she didn't pull it. Never frustrated, and all the while during her set-up airs, smiling, and if she didn't pull it, she just got up and went to the top to try it again. When she did pull the 2nd ever McTwist by a girl, and the 1st ever in a contest, Exposure 2012 was over. Nobody skated the ramp anymore, and the organizers started to bring out the awards. It was literally, "The Show Stopper." It has been said already, but this just isn't a historical moment in girls' skateboarding, but a historical moment in skateboarding... period. I can watch the video a hundred times, and each time, I still get chills. Awesome! Congratulations to Alana Smith. She is going to be huge!
Big thanks to Amelia and Armando, the All-Star Judges; Mike McGill, Dave Hackett, Jean Rusen, Steve Caballero, Aaron Astorga and mathmatician/adder-uppper, Jim Gray, YMCA, all the sponsors, volunteers, participants and crowd who made this the best contest of the year, in my opinion.
Libertad Fund and Exposure Skate
Armando De La Libertad and his wife created a fund to provide educational scholarships to survivors of domestic violence in support of their quest to achieve personal freedom, physical safety, and economic independence. Check out Libertadfund.org for more information.
Exposure Skate For all things Exposure, be sure to check in at their site for updates and info on any upcoming contests or events
Girls' Skateboarding Links
Hoopla Skateboards Cara Beth Burnside and Mimi Knoop founded this company
Girls Skate Network Lisa Whitaker runs this great social site for girls' skateboarding
Meow Skateboards Lisa Whitaker's company. Go support!
Silly Girl Skateboards Matt Gaudio has a great team of girls and has a good thing going here
Something Great Purple Follow Allysha Bergado, Lizzie Armanto and Nora Vasconcellos on Facebook
S-One Helmets Protect your noggin with a helmet from S-One
187 Killer Pads Vinton Pacetti makes the best pads in the business
The Alliance Empowering women in action sports
Thrasher Magazine Joe Fong personally came down from the Bay Area to rep Thrasher and Independent and handed out product to the Top 3 in each division. Thanks Joe!
Independent Trucks Indy has always been down to support the girls
Mahfia TV Kim Woozy runs this lifestyle site about women in action sports, art and music. Excellent content and video editing. #killingitsoftly

If you would like to use these images to post elseware on the web, right-click the preview image and "Save Link as" (mac) or "Save Target as" (PC) to save the large image to your computer. If you would like to use them for an article and need them without the watermark,